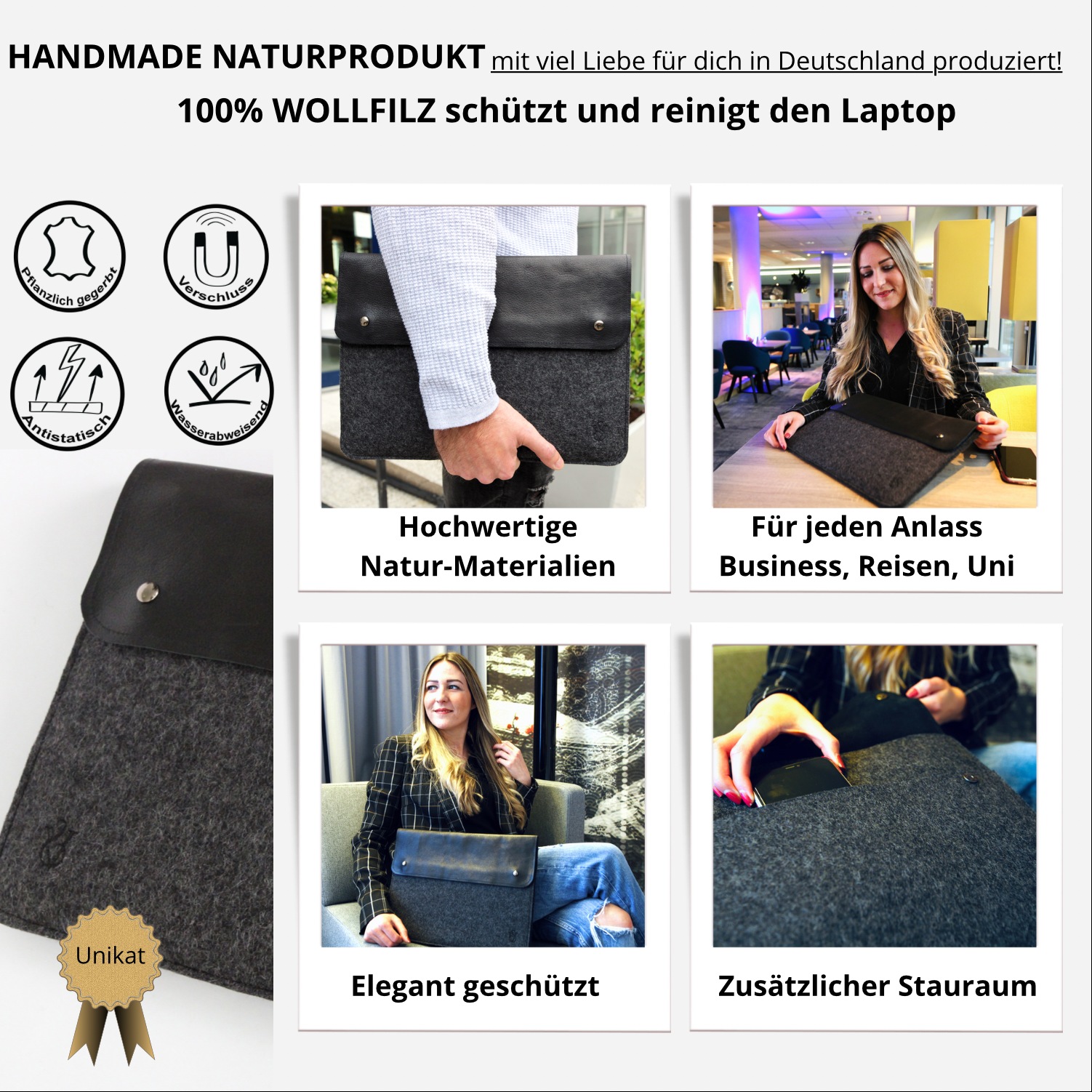 Sustainable LaptopBag a natural product from Germany
The trading company eTrado offers branded products on various online platforms throughout Europe. To its retail partners, eTrado offers an excellent service through its own distribution network, including fulfillment.
The sustainable laptop bag from eTrado
From the manufacturer ViSation comes a sustainable laptop bag that provides excellent protection for the device while being as light as it is sturdy. It was made from the sustainable natural materials leather and wool felt and is suitable for devices with diagonals between 13 and 16″. For this, the laptop sleeve has external dimensions of 35 x 25 cm (as well as 39 x 28 cm). The black-grey design of the handmade product made in Germany is a real eye-catcher. Sustainable are the two base materials:
-wool felt: certified according to ISO 9001:2015 and OEKOTEX Standard 100 (Class II) made of 100% mulesing-free virgin wool
-leather: vegetable tanned, chrome-free, from IVN-compliant production in Germany, "gold-rated" according to LWG standards.
In the future, the ViSation company will offer other natural products for sustainable business. The designers took a year to develop the laptop bag. Among other things, they searched intensively for suitable source materials. The manufactory is based in North Rhine-Westphalia, where the unique laptop bags are created. Their wool felt protects and cleans the surface of the laptop, contains no polyester and is antistatic, water-repellent and self-cleaning. The vegetable tanned leather does not contain any chrome, making it biodegradable.
Unique packaging for shipping
The item is shipped in 100% cotton Furoshiki cloths. The fine material is popular for repurposing by buyers*, such as for gift wrapping. The laptop bag brings enough storage space and is equipped with a magnetic closure. It is suitable for various notebooks of the mentioned size. More information can be found at eTrado.
With an extensive multichannel online sales network, consisting of the top-selling sales platforms (e.g.: Lenando, eBay, Otto, Amazon, Digitec Galaxus, MyToys, Netto-online Kaufland, Limango), e-Trado is able to sell and widely present products on the Internet.
Contact
e-Trado GmbH
Igor Adolph
Gewerbeallee 15-19
45478 Mülheim
0208 30 550 60 67
igor.adolph@e-trado.com
https://etrado.de
The image rights are held by the author of the message.